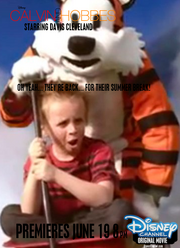 Calvin and Hobbes is an upcoming Disney Channel Original Movie set to premiere June 19, 2015, on the Disney Channel, starring Aiden Alexander and Clancy Brown. The story centers around the titular characters Calvin Harvey and Hobbes Harvey. The first promo aired on November 13, 2015, with a full trailer airing on January 15, 2016. It is spun off to a Disney Channel Original Series, The Many Misadventures of Calvin and Hobbes.
Cast
Production
The first posters before the Press Release first appeared in December 19th, 2014. The very first poster was featured a full sized page of Spaceman Spiff with words at the bottom saying "TOP SECRET" on the 18th. After that, the second and final poster shows Hobbes for the first time on January 9th.
Plot
Calvin(Aiden Alexander)gets off the bus with his Summer Rocks speech,and Hobbes(Clancy Brown)pounces on him. They land on the front porch. Hobbes says Calvin is hard to pounce now that he's sixteen. Back inside,Gisele(Selena Gomez)just finishes up some work,telling Calvin that she has signed him up for Summer Recreation(also known as Speedsters). Calvin hates the idea because he's been to Speedsters,and thinks it sucks.
Hobbes is reading Captain Napalm when Calvin comes in,angry. Mr.Harvey(Andrew Hyde)comes in and says Speedsters is going to build character,which Calvin says is getting old
Video games
Calvin Harvey, Hobbes Harvey, Susie Derkins, and Moe Washington were released seperately as figurines in the starter pack, the sidekicks pack, the villains pack, and the single character pack for the toy-based video game Disney Channel Strikeout on October 17, 2015. Calvin, Hobbes and Safari Al can also be played in Disney Channel All Star House Party.
Gallery